BACK ←
---
Former Clemson Football Player CJ Fuller Dies at 22
---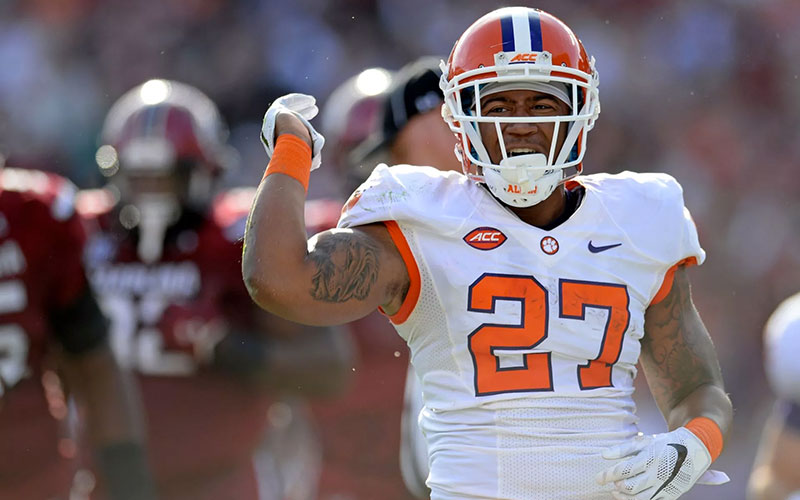 CJ Fuller, a former Clemson football player, died Wednesday (Oct. 3).
Gill Payne, the athletic director at Easley High School, where Fuller was a star player and led his team to the state playoffs three consecutive years, confirmed his death to multiple media outlets. He was 22 years old.
How did he die? What was his cause of death? According to reports, details regarding Fuller's death, including an official cause, have not yet been released.
Fuller played for Clemson between 2014 and 2017 and was part of the 2016 National Championship winning team. He redshirted in 2014 before accumulating 599 yards and rushing on 147 carries with five touchdowns over the next three seasons. He also racked up 290 yards on 17 career kickoff returns.
Clemson head coach Dabo Swinney released the following statement regarding CJ's death:
"Our thoughts, prayers and deepest sympathies are with C.J.'s family. I've known C.J. a long time and watched him grow up through the Easley rec leagues all the way through Easley High School. I'm proud of what he accomplished as a Clemson Tiger, most of all, his accomplishment of being a Clemson graduate. Our deepest condolences and the thoughts of our program are with his family this evening. May he rest in peace."
Fuller, whose position was running back, announced back in February that he planned to transfer to another school for his final season of eligibility.
The following month, Fuller was arrested, along with his former Clemson teammate Jadar Johnson and his former Easley High teammate Quaven Ferguson (a former Duke football player), in connection with an armed robbery at an apartment.
Clemson police said the three football players knocked on the victim's door, forced their way in and took cash and a cell phone. The trio was charged with armed robbery and possessing a weapon while committing a crime.
Former Clemson Football Player CJ Fuller Dies at 22 is a post from: Gossip On This - Pop Culture, News, Videos & Humor