BACK ←
---
Mamoudou Gassama: Fast Facts About Malian "Spiderman" Who Climbed Building to Save Child Dangling Fr
---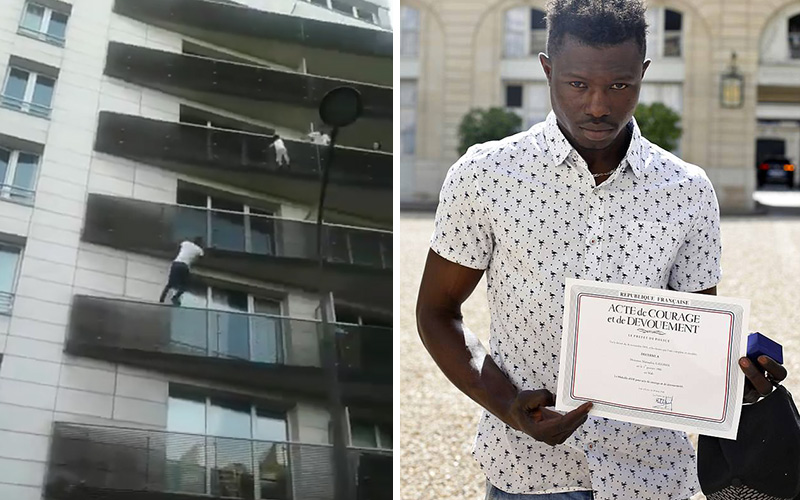 A Malian immigrant is being compared to the Marvel superhero "Spiderman" after he heroically scaled the outside of a building in Paris to save a 4-year-old child dangling from the balcony four stories up.
22-year-old Mamadou Gassama can be seen in amateur video footage being cheered on by spectators as he used his strength to pull himself up from balcony-to-balcony to the building's fourth floor, where the child was dangerously hanging. Gassama's stunning display of heroism lasted a total of 30 seconds.
Following Gassama's heroic feet, he met with French President Emmanuel Macron, who said Gassama would be granted citizenship to the country.
Here's what you need to know about Mamadou Gassama and his heroic act:
Mamoudou Gassama is from Malia, a country in West Africa, and moved to France in September 2017.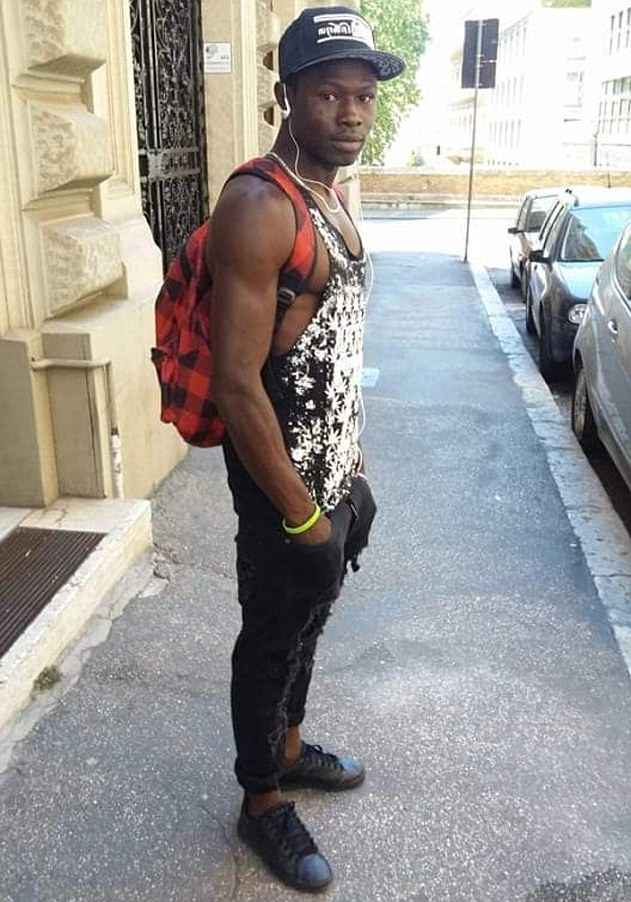 Mamadou Gassama, 22, is a migrant from Mali—a troubled former French colony in northwest Africa.
Gassama traveled through Burkina Faso, Niger and Libya before crossing the Mediterranean Sea to Italy. He arrived in France in September 2017 as an undocumented immigrant.
He currently lives in a hostel for immigrants.
Mamoudou Gassama met with French President Emmanuel Macron, who said he would be granting Mamoudou citizenship to France.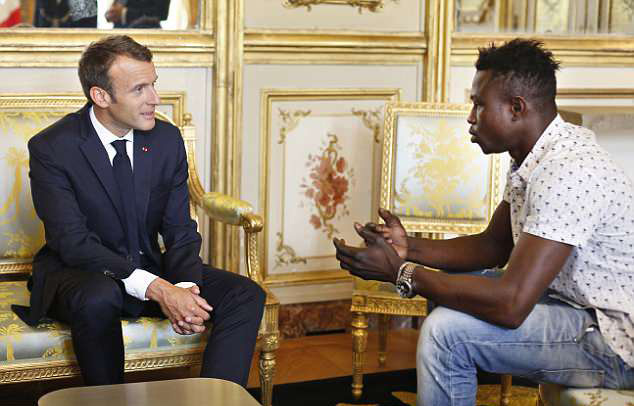 After heroically saving the unidentified 4-year-old boy from falling four stories from a balcony, Mamoudou Gassama sat down with French President Emmanuel Macron.
During the meeting, which was live streamed Monday (May 28) on the president's Facebook page, Macron gave Gassama a medal for bravery. Macron also informed Gassama that he would be made a French citizen and would also be offered a place in the fire brigade. Gassama also received a certificate of courage and dedication signed by Paris Police Prefect Michel Delpuech.
Parce que des actes d'héroïsme comme ça, on en a besoin tous les jours ! M. GASSAMA peut, s'il le souhaite, rejoindre les héros du quotidien PompiersParis. pic.twitter.com/gtcl52V0Z2

— Élysée (Elysee) May 28, 2018
"All the (Gassama's) documents will be put in order," Macron told the 22-year-old, referring to his immigration status. "I'm pleased because it's the first time I've received a trophy like that," Gassama told Macron.
Mamoudou Gassama said he "didn't have time to think" when he sprung into action to save the child dangling from the fourth-story balcony of a building.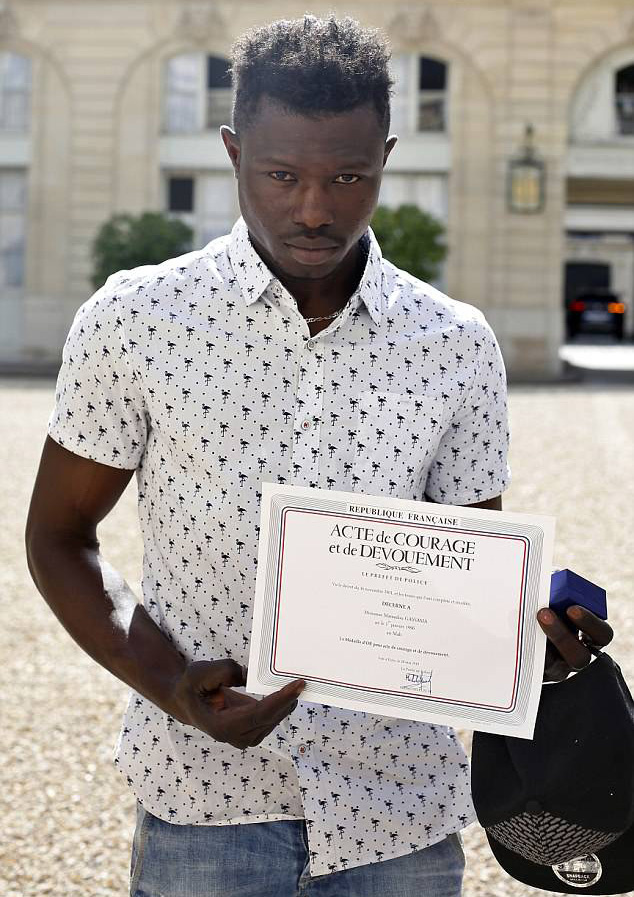 Mamoudou Gassama said he was just walking by the apartment building when he noticed a crowd gathered in front, and without thinking, he quickly sprung into action in an effort to save the child, completely disregarding his own safety.
Gassama told French President Emmanuel Macron, "I just didn't have time to think, I ran across the road to go and save him. I just climbed up and thank God, God helped me. The more I climbed the more I had the courage to climb up higher, that's it."
By the time firefighters arrived at the scene, they found out the child had already been rescued. If it weren't for Gassama, the child would have likely fallen and met a tragic fate. "Luckily, there was someone who was physically fit and who had the courage to go and get the child," a spokesperson for the fire department said.
Video footage of the rescue shows Gassama pulling himself up from balcony-to-balcony with his bare hands as a man on the fourth floor desperately tries to hold on to the child by leaning across from a neighboring balcony. One witness told Le Parisien, "There is a fence and a gap between them… The neighbor could not afford to lean back to get the child himself."
After reaching the fourth floor, Gassama hiked his leg over the balcony before reaching out with his right arm and grabbing the child. After all was said and done, the only injury the boy suffered was a torn toenail, while Gassama only suffered a few scratches.
"I saw all these people shouting, and cars sounding their horns. I climbed up like that and, thank God, I saved the child," Gassamt told French reporters. "I felt afraid when I saved the child… (when) we went into the living room, I started to shake, I could hardly stand up, I had to sit down."
Asked why he took such a huge risk to save the boy, Gassama told French newspaper Le Parisien (according to a translation from the Daily Mail), "I did it because it's a child."
Paris mayor Anne Hidalgo praised the young migrant on Twitter for his "act of bravery." She also reportedly called him personally to "thank him warmly."
Mayor Hidalgo said, "He explained to me that he had arrived from Mali a few months ago dreaming of building his life here. I told him that his heroic act is an example to all citizens and that the city of Paris will obviously be very keen to support him in his efforts to settle in France."
The child's parents weren't at home at the time of the incident, and police are investigating the situation.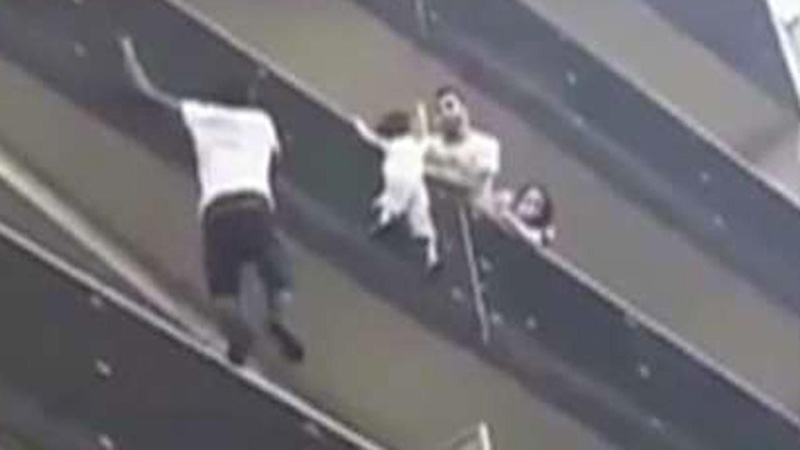 According to local authorities, the boy's parents weren't at home at the time of the incident, and the father has been questioned by police on suspicion of leaving his child unattended. Officials believe the mother was not in Paris the day of the incident.
Mamoudou Gassama is being compared to Lassana Bathily, a Malian immigrant who helped save lives during a January 2015 terror attack in France.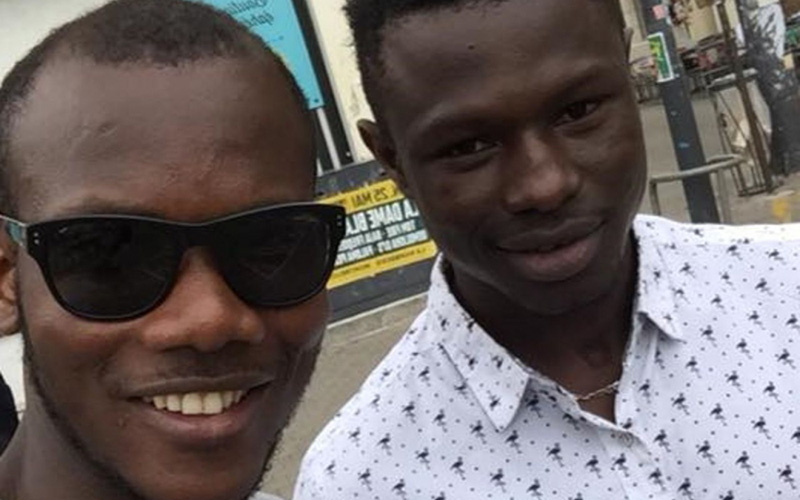 Mamoudou Gassama's story of heroism has drawn comparisons to another Malian immigrant who was hailed as a hero for helping save lives during a January 2015 terror attack in France.
Lassan Bathily helped hide six hostages (including a baby) in a freezer during the Islamist Jihadi attack on a Jewish supermarket in Paris that killed four people. Like Gassama, Bathily was also given French citizenship for his heroic efforts.
Bathily wrote a book in 2016 called "Je ne suis pas un heros" (I am no hero) and created a charity whose first project was to provide fresh water and electricity for his home village in Western Mali.
Mamoudou Gassama: Fast Facts About Malian "Spiderman" Who Climbed Building to Save Child Dangling From Balcony is a post from: Gossip On This - Pop Culture, News, Videos & Humor